First Nations peoples would not settle in Banff because of the energy created by the meeting point of the three valleys which was just too strong. Many people who stay here report very strange dreams.
***
Meal times in the dining hall is the place we all congregate, endlessly chat, plot and scheme before returning to the privacy of our studios and inner worlds. It was over dinner that we all arranged the first of our group crits and late night open studios.
Tuesday, 10am, Alan already has hired and wheeled a projector into the Other Gallery - a transient space for resident artists' use. More and more people join in and we attract a good crowd. Having only visualised each others' practices through talk over the dinner table, or a few sketches in the studio, we now open up our worlds and begin to understand each other and more pieces fall into place. We find common interests, explorations and questioning.
***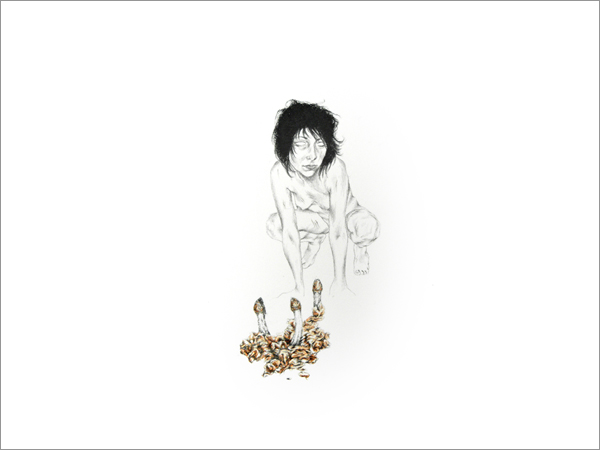 It's midnight in the studio. My hand curled with drawing cramp. In the distance I can hear the noise of a sander, canvases in meticulous and patient preparation, a surface waiting for its first mark. Reviewing my drawings and thoughts, it is late but my mind is still full and nothing inside me wants to sleep.
My mind travels out of the studio and floats over the valley to the forests so full of mystery. I imagine the activities it conceals, way off the safety of the trails. I combine the images and stories collected over this past week and stitch them together with my wandering thoughts. At this early stage I can see a collection of drawings emerging, a large piece made up of composite parts. The drawing process intensifies as I slip in and out of rhythm. Intricate line upon line of small drawings burn the images into my mind like the blinding light bouncing off the snow. Through my drawings I am travelling into the forests, from the magnitude of the mountains I focus in closer and closer to absolute intimacy.
And so, my characters too are exploring the forests. They are feral, they may have a command of the forests or they may be naïve and in danger.
***