Open studios. We all meet in the evening. An informal affair, word has spread and a good crowd of both artists and musicians gathers. The private worlds of our studios are thrown open. This program has presented a brilliantly composed group of artists. We are all impressed by the mix of practices, ages, backgrounds and nationalities. It makes for incredible input and as each day goes by more energy is whipped up and more experiences are exchanged. The days fly by but so much is packed in and each minute is precious. Even though I have known this place and my new friends for such a short time, the intensity of this experience makes us feel open and at home, exchanging ideas and stories in a way you would do with one you have known for years. I now work with my studio door welcomingly open and I get the opportunity to observe other artists' techniques.
I am being exposed to so many different creative processes, and I lap up every opportunity to observe techniques in action with such excellent facilities. Everyone is so dedicatedly focused on their own individual projects, but it is the willingness that each artist has to give time to others, share ideas and critique with openness and honesty. I have exchanged ideas and approaches to drawing; I have watched cyanotype prints revealing their mysteries in the darkroom; I have been shown silk-screen techniques; I have observed the processes of beautiful lathe work and the art of creating casting moulds; I have had many artists pop by and discuss at length with me the possibilities within any new mark made in the studio.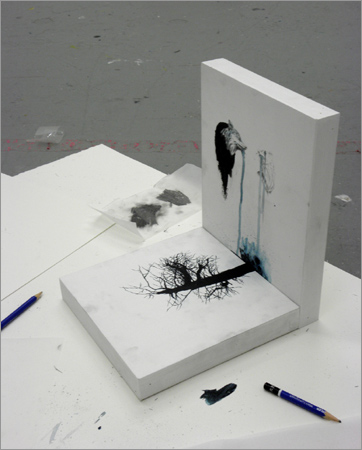 Studio time lurches between the intimate and engrossed world of my drawings on paper, and the activity of trying different techniques, frantically sketching, throwing materials around, drowning under chaotic piles of scribbles, photos and found images. This studio, stripped of my usual paraphenalia back home, presents me with a fresh sense of space and allows my sketches to slip off the paper and tiptoe into the realms of 3 dimensional space and gravity.
***
It was dark when I nipped out for some air. As my eyes adjusted to the light I staggered back with both excitement and fear. A male Elk, so much larger and majestic than I had imagined. He was handsome, powerful and unsettling. I watched him for a good while, keeping my distance.
***