I get a succession of emails from home. I allow entry into my mountain bubble from the world beyond. I realise how much I have to look forward to, think of my friends and loved ones and feel excited that the work I do here can carry on back home.
***
I dream that I am at a complaints desk. I attempt to communicate with the man behind the desk, but the whole time I talk he is tattooing his whole head and shoulders blue.
***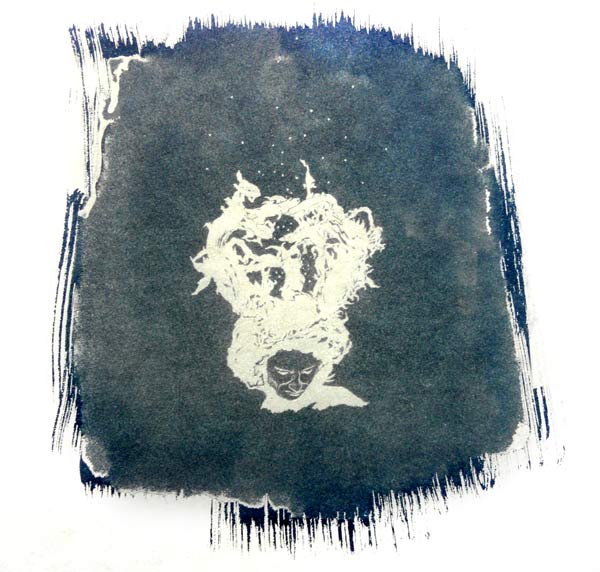 cyanotype image
see detail
I partake in a little collaboration with Constanza. I have been to her studio many times, watching the mysteries of cyanotypes, observing the sunlight create images before my eyes. I arrive with a delicate drawing on tracing paper. A Medusa-like head with spores floating around her. Constanza teaches me how to coat the paper and I sit on the sun-drenched veranda, eagerly watching the colours of the chemicals change, with child-like giddiness. Back in the darkroom I wash the print and see my image emerge, inverted white against a brilliant blue. I get excited about the possibilities and it becomes an addictive process.
***
I dream that all my new friends from Visual Arts are at a village fete. We play hook-a-duck and eat candy floss. The sky is gloomy and the heavy clouds threaten a thunder storm. Suddenly the clouds flash blinding lights and out of the clouds emerge brilliantly lit flying saucers. The crowds erupt into a frantic panic. We find a safe place, my friends and I, still eating candy floss, and observe the violent invasion from another world with a passive intrigue.
***
As each day goes by, the internal need to absorb as much energy of this place to feed into creativity, the want to spend as much time as possible with new friends who will shortly go back down different path, to share ideas and life stories, gets more and more incredible. Pretty exhausting, though ultimately rewarding, the days can now be counted on one hand. Each day has a plan. There is not enough time to fit everything in.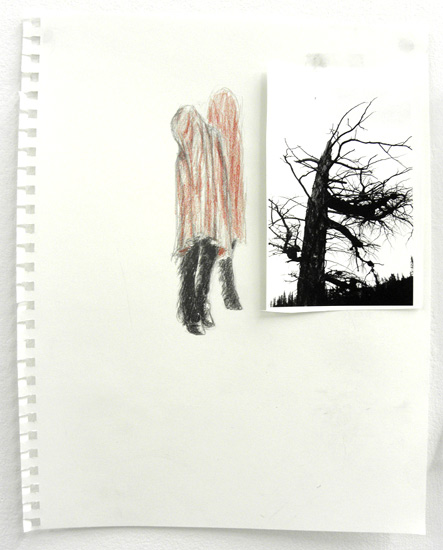 ***
The corridors were a flurry of activity. This day I decided that my door would remain closed to the frantic activity outside. Lots of treaded soles, rumblings of trolleys transporting projectors, the faint smell of a soldering iron. Today, the Liminal Screen Residency were to have their open studios, marking the close of their residency. Having studios along the same corridors I had got to know artists on this programme quite well, though I had only imagined their work through description. Passing some studios I would see artists busy editing, knowing there were incredible works whirring around the hard-drives. Finally, not having a grasp of technology, I could visually see incredible and ambitious works in progress, already in their development just mind-blowing. I particularly enjoyed spending a good while discussing with Linda Duvall the intricacies of her works, the incredible people she has worked with on her project and the many possibilities and directions it could all go in.

***
In the Vistas dining hall there are large round tables marked 'ARTS' reserved for artists and musicians in residence. In the beginning, these tables took up a large portion of the room. Now, as the musicians' residencies come to a close, the Liminal Screen residency has ended, the tables begin to dwindle. Now, only a couple of tables, we all huddle round. Vistas feels different. Many more people on conferences or passing through for workshops and seminars. The atmosphere has changed. It feels like the balloon we've all been riding in is dropping in altitude and lowering us back down towards ground.
Then again, there's still 3 days left, we have an exhibition this evening, and there is so much you can pack into a short space of time when you put your mind to it.